Selecting Library Materials
Developing Your Church Library Collection
Selecting materials for your church library is one of the most important and difficult jobs for church librarians. Often times people will donate books to the church library and it is the librarian's job to determine if they are appropriate or not. There is also the need to purchase books and other media from reliable sources at reasonable prices. WELS-CLO can help with the following resources: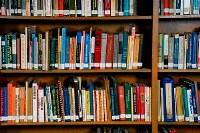 Books Authored by WELS Women
These excellent resources have all been authored by women in the Wisconsin Ev. Lutheran Synod. Any of them would be ideal for a church library.
Thanks to Naomi Schmidt for compiling the list.
Directory of Christian Publishers
This handy list of Christian publishers is helpful for publisher contact information and for determining the denominational affiliation of various publishers. Many small publishers like Northwestern Publishing House are not included in this list put together by the National Church Library Association.
Weeding Your Collection
Guidelines to help with the weeding process to keep your church library current and up-to-date
WELS-CLO presents the information on this page as a service to our users. Links to external web sites do not necessarily constitute an endorsement or guarantee of accuracy by WELS-CLO. We accept no responsibility for other web sites to which we are linked.